---
St John's Church, Newbury
---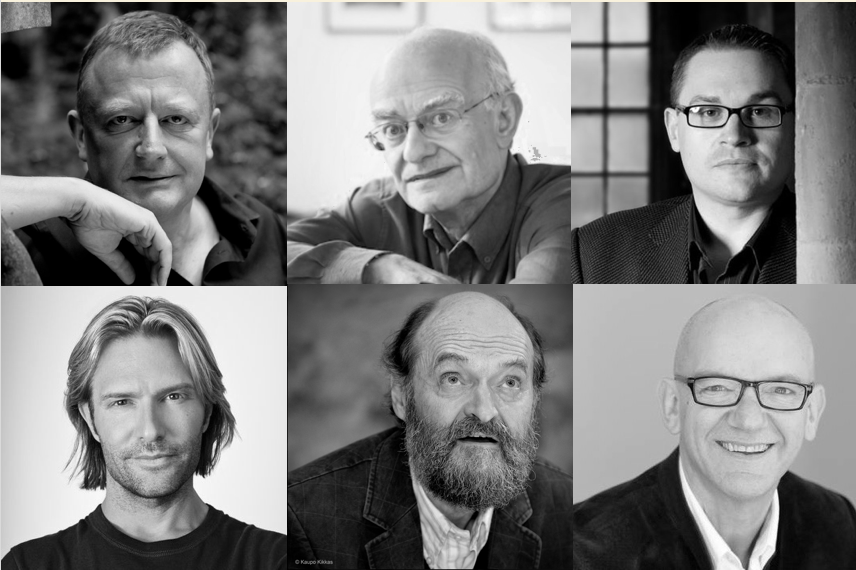 Following the choir's hugely successful Women in Music and Poetry concert last year, 21st Century Man continues the contemporary theme and will delight Cecilia audiences with a programme including the music of Bob Chilcott, Patrick Hawes, Paul Mealor, Arvo Pärt, John Rutter and Eric Whitacre.
Bob Chilcott's popular Little Jazz Mass illustrates the traditional Latin Mass text by using jazz idioms including swing style and 'blues'; the composer's syncopated rhythms and jazz chord progressions breathe new life into words which have been set to music by many over thousands of years. Paul Mealor's Ubi Caritas et Amor was composed in celebration of the marriage of Prince William and Catherine Middleton and many will remember its first performance at Westminster Abbey on 29 April 2011. Estonian composer, Arvo Pärt's minimalist and timeless Magnificat Antiphons draw on the tradition of medieval chant and drone and will transport the listener to another level of meditation. This well balanced programme promises an interesting insight into the contemporary choral scene.
---
Review by Charles Medlam
9th March 2017 Newbury Weekly News
Following their highly-interesting Women in Music and Poetry programme last year, the Cecilia Consort decided to redress the balance with a concert of living male composers entitled 21st Century Man.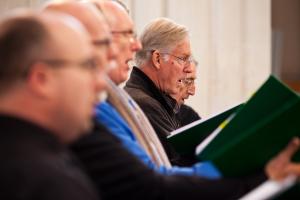 Cambridge-based John Rutter has given us some of the most memorable church music of recent decades and his Hymn to the Creator of Light gives thanks for its physical and metaphorical qualities, with both tender and stirring moments, and some riveting textures.
This auspicious beginning was followed by Arvo Pärt's Seven Magnificat Antiphons , an Old Testament sequence for the week before Christmas. These recondite offerings do not readily give up their secrets, but his Spiegel im Spiegel (Mirror in the Mirror) immediately re-engaged the audience. This deceptively simple meditation set Charlotte Smetts' slow, beguiling cello scales against the ever-reliable Steve Bowey's hypnotically static piano textures. Delicious.
"...as close to a riot as is permitted in church, and ... another compelling evening with this fine choir." - Charles Medlam
Latin is alive and well in contemporary church music and was set both by Paul Mealor in his motet Ubi Caritas, composed for the royal wedding in 2011, and by Grimsby-born Patrick Hawes, who uses conventional harmony to great effect.
American Eric Whitacre's Sainte-Chapelle describes how a young girl's innocence gives the gift of song to stained-glass angels. This compositional tour-de-force is an almost visual evocation, using Gregorian plainchant for the innocence, tone clusters for the diffused light, and ever more complication for the repeated cries of "Holy!". It was delivered partially hidden, in one of the choir's habitual coups de théâtre, from the entrance hall. Whitacre also writes film scores and pop songs and his Seal Lullaby, on a text by Kipling, seemed to be designed to catch the eye of a Hollywood producer (it did), staying, however, just the right side of gooey.
Bob Chilcott's Little Jazz Mass sets the age-old text with blues and jazz idioms, and immediately put smiles on faces as well as loosening hips among the singers. Who could fail to tap a foot to the sound of Sean Law's strolling bass and Phil Bailey's seductive brushes on the high hat?
This was as close to a riot as is permitted in church, and a fitting end to another compelling evening with this fine choir.
---
Media Highlights