It all began when the members of an ad hoc choir, put together in the summer of 1989 to sing Mozart's Requiem in the Newbury & District Arts Festival, so enjoyed the experience that they asked Janet Coxwell, who had rehearsed them and solo-ed with them on the night, to form and direct a regular choir so they could continue singing together.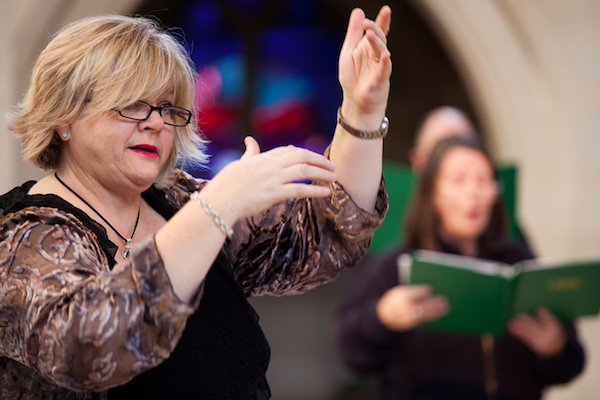 The choir's first concert as The Cecilia Consort was a performance of Purcell's Dido and Aeneas and Vivaldi's Gloria at St Mary's Church, Speen in July 1990. Ever since then the Consort, which sings primarily a capella or with organ accompaniment, has performed two or three concerts each year, covering a repertoire of sacred and secular music from across a broad historical span that is not typically tackled by choral societies.
A major triumph of the Consort's first decade was Bach's Saint Matthew Passion, sung jointly with St Richard's Singers in Chichester Cathedral and at St Nicolas' Church, Newbury. A highlight of its second was a sell-out performance of Monteverdi's Vespers at Douai Abbey with Canzona, an ensemble specialising in the performance of baroque music on period instruments.
The choir has had sad moments too. One was the 1996 Remembrance concert shortly after the death of choir librarian, Sue Pease, who had attended the early rehearsals for the concert. "It was the most gutsy, moving piece of teamwork I've ever been involved in", says Janet. Another was the first concert following the sudden death of the choir's secretary Paul Kelly in August 2007.
"the poise the group can achieve and the beauty of their quiet singing, which make a stunning combination that sends shivers down the spine" - Janet Coxwell
In recent years the choir has promoted the work of contemporary composers. In 2009 the Consort gave the first British public concert performance of Patrick Hawes' song cycle, Song of Songs, to a standing ovation. More recently the choir devoted a whole programme to works by contemporary female composers including Judith Bingham, Cecilia McDowall and Teena Lyle.
In 2015 the Cecilia Consort welcomed back a dozen former members from around the UK to join in a Silver Anniversary concert featuring music from its 25 year repertoire. Highlights included a Monteverdi Vespers excerpt, Vaughan Williams's Mass in G minor and Britten's Hymn to St Cecilia, as well as a beautiful Panis Angelicus setting penned for the choir by Janet Coxwell herself.
All who have enjoyed a Cecilia Consort concert recognise its unique quality. Janet Coxwell ascribes it to "the poise the group can achieve and the beauty of their quiet singing, which make a stunning combination that sends shivers down the spine." The choir also benefits from a special relationship with several of Janet's former colleagues from the internationally acclaimed Tallis Scholars, who often join the Consort and sing just for the pleasure.